Exclusive Interview with the 'Nomadic Boys'
The Greek/French gay couple Stefan and Sebastien are two of the most famous gay travel bloggers around the globe.
Their charming, loving and fun way of going through life together and encountering new adventures every day is what makes them unique and just likable.
Their mission is to find out the best places in the world and inspire their readership to travel 'beyond the pink comfort zone'.
We're happy to give you an exclusive glimpse into their travel life behind the scenes.
Let's welcome the Nomadic Boys on our little Boone Island! One place they haven't been before 😉  
Hey Stefan, Hi Sebastien, thanks for making time to give us this interview.
To give our readers some insights about you, can you explain why you consider yourselves to be 'nomadic' and what does this mean to you in regard to your lifestyle?
The name came about from the idea of being able to work and make money from wherever we are in the world, as long as we have internet access. Our website predominantly makes money via affiliation/commission, for which we are paid online. This gives us the freedom to be able to work from wherever we want. Therefore we have opted for a lifestyle of long term travelling, slowly moving around to a new "base" each time.
For how long are you a couple now and why did you decide to become the 'nomadic boys'?
We've been together since February 2009 - just celebrated our 10 year anniversary. When we met, Stefan was a lawyer and Seb a computer analyst. Whilst we had comfortable jobs and an easy lifestyle, it got boring and wasn't what we were passionate about. We wanted to travel and see more of the world together. After a 2 week holiday in Thailand, that was it for us and we decided to save up for a few years and then take the jump and go to Asia for a year sabbatical. That sabbatical turned into a 2 year adventure across the continent. Our blog grew at the same time and we started getting invitations to collaborate, so this then became our vocation, which we are still working on to this very day.
You have one of the biggest gay travel blogs with a huge fan base.
How much time do you spend per day on updating your social media channels and website?
It used to consume us so we reached the point of treating it like a job and having clear separation of roles and hours. Weekends are a big no no for laptop and social media. Weekdays is when we commit to the website and social media channels. That being said, you're always going to check things on your phone when you're not officially "working".
Can you still enjoy your travel life?
We are now at the point where we're planning trips where laptop, cameras and phones are not to be involved unless necessary. We were in fact part of a documentary with Durex in which they had 6 couples, 3 without technology and 3 with for a week. We were one of the couples without tech. At first it was strange (especially for Stefan who is addicted to his phone/social media), but turned out to be so refreshing. Take away the pressure of "having" to post, take the best sunset pictures etc, you just have moments of pure joy with your partner, learning more about each other and really living in the moment together. We loved this and try to replicate it as much as we can. The Durex video is here:
https://www.youtube.com/watch?v=5b4fN-Q7MDs&t=16s
How many countries have you travelled so far? - Which is your favourite one and why?
We've been to around 100 between us. We love Thailand for the beaches, diving opportunities, the gay scene of Bangkok and the food. The landscapes of North Chile are stunning. Anything in Japan is like something from a few centuries ahead of us from the customer service to the food. China was a really fascinating place as is India. The Philippines also stunning for beaches and the nicest people on the planet.
How long do you stay in one place usually?
It depends. Asia we spent two years, as we did in Latin America. However, moving around is really tiresome, so we try to have a home base somewhere for as long as we can. This not only enables us to feel "grounded" for a while and work, but also allows us to really get to know that place much better rather than just passing through.
Travelling around the globe as a gay couple: which rather unpleasant experiences have you made in particular countries? How do you deal with it?
The main issues have been in Muslim/Arabic countries, where being gay is not only illegal, but carries some form of sobering death penalty. In these sorts of countries (Lebanon, Malaysia, the Maldives etc) we went back in the closet, booked single beds and acted as "mates" in public. The reality is that for most people, they thought we're brothers. So in countries with backwards LGBTQ laws, we just let them believe that. The most extreme was Brunei. We visited Borneo island as part of our big Asia trip. We got close to Brunei and made the decision to avoid it for fear of our safety. With hindsight it would have been interesting to have gone. But now it's a definite no no with their big announcement of stoning all gays to death!
Stefan: How do you describe Sebastien in 3 words?
Smart, adorable, selfless
Sebastien: How do you describe Stefan in 3 words?
Loyal, cheeky, positive
You are a lovely couple! :-) What do you love about each other? What drives you mad?
Thank you! 
We balance each other out. Seb is a total perfectionist and is never pleased with something. He always strives for excellence with everything he does, but it means he takes forever to get things done. Stefan is the driver and pushes Seby and we get to something on balance - after many many arguments in the process...
What brings colour to your life? /What inspires you?
We love cooking and always make time to cook together. We also love movies, especially sci-fi; Stefan is a huge Star Wars/Marvel geek. Netflix keeps us very happy :)
If you had a super hero ability, which one would it be?
For Stefan to fly, for Seby to be able to swim /breath underwater.
What is your lifestyle motto?
"When you arise in the morning, think of what a precious privilege it is to be alive – to breathe, to think, to enjoy, to love"
Wise words by Marcus Aurelius. - (121 - 180, roman emperor and philosopher)
What message would you like to pass on to our readers?
We love every single one of you :)

What else can one say?!
Thank you Stefan and Sebastien. We wish you all the best for your journey and are fans of who you are and what you do!
Become a fan, too and check out more interesting content about them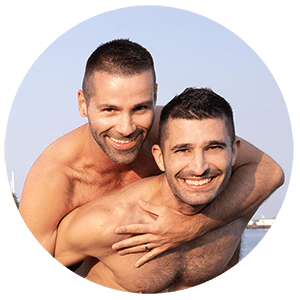 WEBSITE: https://nomadicboys.com/
INSTAGRAM: NOMADICBOYS
-BOONE Magazine-
---